Fruit Cake Recipes That Bakers Are Raving About!
I was browsing through the Christmas cakes this morning and got to thinking about my grandmother's special cake she made nearly every year until she passed last Christmas Eve. When the holidays approached we all got excited because we knew it meant a fruit cake would be on it's way soon! And boy was it a fruit cake! Soooo delicious! And if you liked alcohol she would wrap the cake in a cloth soaked in brandy so by the time it reached your house it was potent!
My grandmother's recipe was a lighter colored cake than this first recipe which I found on Epicurious, but this one sounds rich and delicious! In fact it got nothing but rave reviews from the bakers! This is called a Dark Fruit Cake probably because of the molasses which gives it a dark color and rich flavor:
Ingredients:
Photo by: Lara Faroni
1/4 pound butter, or 1/2 cup shortening

1 cup dark-brown sugar, firmly packed

1 teaspoon lemon extract

2 eggs

1/2 cup molasses

2 cups flour

1/2 teaspoon baking soda

1 teaspoon cinnamon

1/2 teaspoon allspice

1/2 teaspoon mace

1/4 teaspoon cloves

1/2 teaspoon salt

1/2 cup milk

2 cups small pieces mixed candied fruit

1/2 cup small pieces candied citron

1 cup raisins

1 cup chopped pecans
Preheat the oven to 325°F. Butter two 9x5-inch loaf pans, line them with foil, then butter the foil. Cream the butter or shortening, add the brown sugar, and beat until light. Add the lemon extract and eggs and beat well. Stir in the molasses and blend. Mix together the flour, baking soda, cinnamon, allspice, mace, cloves, and salt; beat into the first mixture. Add the milk and beat until smooth. Stir in the candied fruit, citron, raisins, and pecans, and mix well. Spoon into the pans and bake for 1 to 1 1/4 hours, or until a toothpick comes out clean. Turn out onto racks to cool. When completely cool, wrap well and store in an airtight container.

Brandied Fruit Cake (And here ya go - the alcohol version like my grandmother's)
Soak two large pieces of cheesecloth in brandy. Wrap each fruit cake in the cheesecloth, covering all sides, then wrap well in foil. Moisten the cheesecloth with additional brandy every few days for about a week. The brandy will flavor the cake and help preserve it too.


Read More http://www.epicurious.com/articlesguides/holidays/christmas/fruitcake/recipes/food/views/Dark-Fruit-Cake-236603#ixzz1h03xtZHv
Here's another found on Allrecipes which is just the opposite of the one above, it's a White Fruit Cake with about 37 out of 39 5-star reviews so it must be delicious!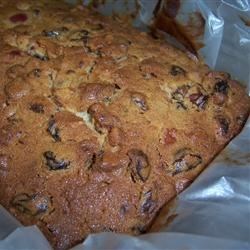 Read More: http://allrecipes.com/recipe/white-fruit-cake/detail.aspx
coupon code
STMMMS21277
to get your $10 discount on your initial purchase of My Memories Suite v.3 by Polaroid. You'll also receive another $10 inside the software!
I'm not sure if there's enough time left before Christmas to make this easy cake but here it is if you've got the ingredients ready to go! This is an
Ice Box Fruit Cake
and doesn't require baking! Excellent but you do have to let it age...for ONE week.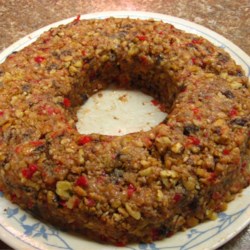 Directions
If you'd rather not have the whole cake but would prefer cookies; here's a nice Whole Wheat Fruitcake Cookie recipe also from Allrecipes website. I think I've had these before; really delicious.
And finally here is the plain ole Traditional Fruit Cake recipe adapted from Delia Smith. This thing looks fabulous! Packed full of fruit of every kind! Yummm!
Traditional Fruitcake
Adapted From Delia Smith
Ingredients:
1 lb dried currants
8 oz. raisins
8 oz. golden raisins
8 oz. diced candied orange peel
3 T brandy (you can use rum, bourbon, or Irish whiskey in place of brandy) plus more for "feeding"
8 oz. butter
8 oz. brown sugar
4 eggs
8 oz. flour
1/2 tsp. salt
1/2 tsp nutmeg
1/2 tsp. allspice
2 oz. pecans, toasted and chopped
1 tsp. molasses
grated zest 1 lemon
grated zest 1 orange
The night before you want to bake the cake, combine the raisins, currants and orange peel and pour the 3 T brandy over it. Toss with your hands, cover with a towel, and leave overnight. (If you skip this step, it's not the end of the world. Just toss them before you add them to the cake).
Preheat the oven to 275 degrees.
Cream the butter and brown sugar together until light and fluffy, then add the eggs, one at a time, beating between each addition. Add the flour, the spices and the salt and beat until just combined. Finally, fold in the fruit, the molasses the pecans and the zest with a wooden spoon.
Line an 8 inch round springform pan with parchment paper (I cut out a circle for the bottom by tracing, then cut a strip to wrap around the edges) and pour in the batter. Place another circle of parchment paper with a hole cut in the middle (Delia says about the size of a 50p coin, which is roughly the size of a 50 cent coin, but I haven't seen a 50 cent coin since I was a kid, so use some discretion. Bigger than a quarter) directly on top of the batter, then wrap the whole pan in a collar of brown paper (I cut about a 4 inch strip of paper from a grocery bag (I usually use my own bags, but sometimes you need the paper!) tied with kitchen twine.
Bake in the low oven for 4 -4.5 hours, or until a skewer poked in the middle comes out clean. Let the cake cool in the pan, then poke with skewers and pour some brandy over the top. Soak cheesecloth in more brandy, and wrap the cake thoroughly. Store in a tin for a week or two, "feeding" every few days with more brandy. The character of the cake will change with aging, making it more and more confection like the longer it ages.


Read more: http://savour-fare.com/2009/12/07/its-fruitcake-weather-buddy/#ixzz1h079iRmD
coupon code
STMMMS21277
to get your $10 discount on your initial purchase of My Memories Suite v.3 by Polaroid. You'll also receive another $10 inside the software!

Well, I hope this helps add some holiday cheer..... hiccup.... ; ) to your celebrations! Do you have a special favorite holiday recipe that your family makes every year? If so please feel free to share in the comment section below.
Until next time..........happy baking!