Bridal Shower Cake Pops!
Did you ever want cake but didn't want a whole slice or didn't didn't have time to sit down to enjoy it? I have a solution! It's called a cake pop!
What exactly is a cake pop you ask? It's cake on a stick. It's easy to transport, easy to open and you won't feel like you just woofed down a huge slice of cake! It's great for on the go, for kids lunch boxes, or for parties! You can even sell them as a vendor at your local farmers market and make a few bucks for yourself!
Basically what you do is make the cake and icing separately, mix the icing and cake together, form balls, put them on a stick, and dip them in melted chocolate or melted candy. Each kind is different and over the next little while I'll be posting different recipes to try.
This recipe and images are courtesy of www.Docerela.com.


Ingredients
1 box of french vanilla mix

Half of can of vanilla frosting ( I don't use alot of frosting so its less sweet.)

White chocolate melts

Orange chocolate melts

Light blue chocolate melts

Lollipop sticks 6''

Orange and turquoise ribbon.
1. Prepare the cake mix as per instructions on the box.
2. Bake cake at 350 degrees. Once cake is baked, set to cool.
3. Once cake is cool, crumble it in a large mixing bowl.
4. Mix the crumble cake together with the vanilla frosting.
5. Once mixed, place it in the refrigerator for about half an hour.
6. Roll the cake into balls. Once rolled, place them in the freezer for about an hour.
7. Once you have your cake balls rolled in the freezer, start melting the chocolate.
8. Remove the cake balls from the freezer.
9. One at a time get a lollipop stick and dip the stick about 1/2 inch of the tip into the melted candy coating and then insert the lollipop stick straight into a cake ball, pushing it no more than halfway through. Hold the cake ball and turn it back and forth or softly tap it, so the excess chocolate falls off. Place cake pops in the refrigerator to dry out completely. Once dry you can wrap it individually.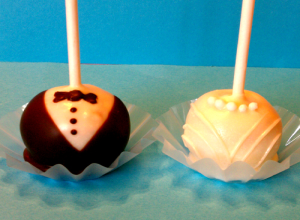 To get the Tuxedo effect, you'll dip it in white chocolate, let dry, then dip each side at an angle in the dark chocolate. You can use a fine paintbrush or toothpick to make the tie and dots for buttons.
Hip, Modern, Exclusive Wedding Invitations!
Wedding Day Candies
Create MY M&M'S® Candies With Your Own Personal Words & Photos!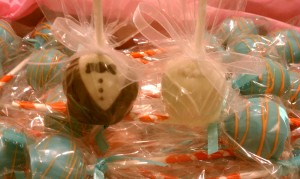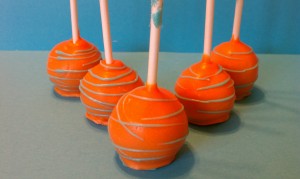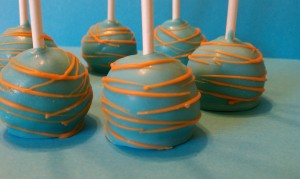 Until next time.....Happy Baking!