Thanksgiving Cupcake Cakes
When most people think of cakes they think of the traditional round or sheet cake. But becoming more popular these days is the cupcake cake because of the ease of serving it. Just pull one off and hand it out; no slicing needed.
I had my own series of cupcake cakes when I worked for WalMart's bakery. They are easy to put together and once smooth you can give them most any look. For Thanksgiving I had a series of pilgrims, indians and turkeys. I also had the convenience of an airbrush for all but the turkeys. However, you can make a simple color sprayer by using an atomizer, some food color and water mixed to suit your need. Simply mist the areas lightly to obtain the color needed. It doesn't look as good as an airbrush but it does ok. I only needed some rosy red for the cheeks on these guys:
See how wonderful they turn out? And they sell like hotcakes!
You just change the order of the cupcakes depending on the design you're wanting to achieve.
All of the one's here have 12 cupcakes and buttercream icing. I used the grass tip for hair. Works great!
She wasn't quite as beautiful as I wanted. I made her a few days after the others and had forgotten the shape of eyes I'd used on the one's before her. So she turned out a little beady-eyed! but not bad. use the rose tip to make the ruffled hat.
This guy is made from only 2 cupcakes. I cut the corner from a cake board to make a support for his tail. Once you get the two cupcakes iced using a 21 or 22 border tip then you just stick the board to his back side and ice onto it - both sides starting from the outside and working in so the feathers fall on top of each other. Make his face the same as with the first turkey.
Hope this gives you some more fun ideas with the kids and for your special Thanksgiving Day!
Until next time..... Happy Baking!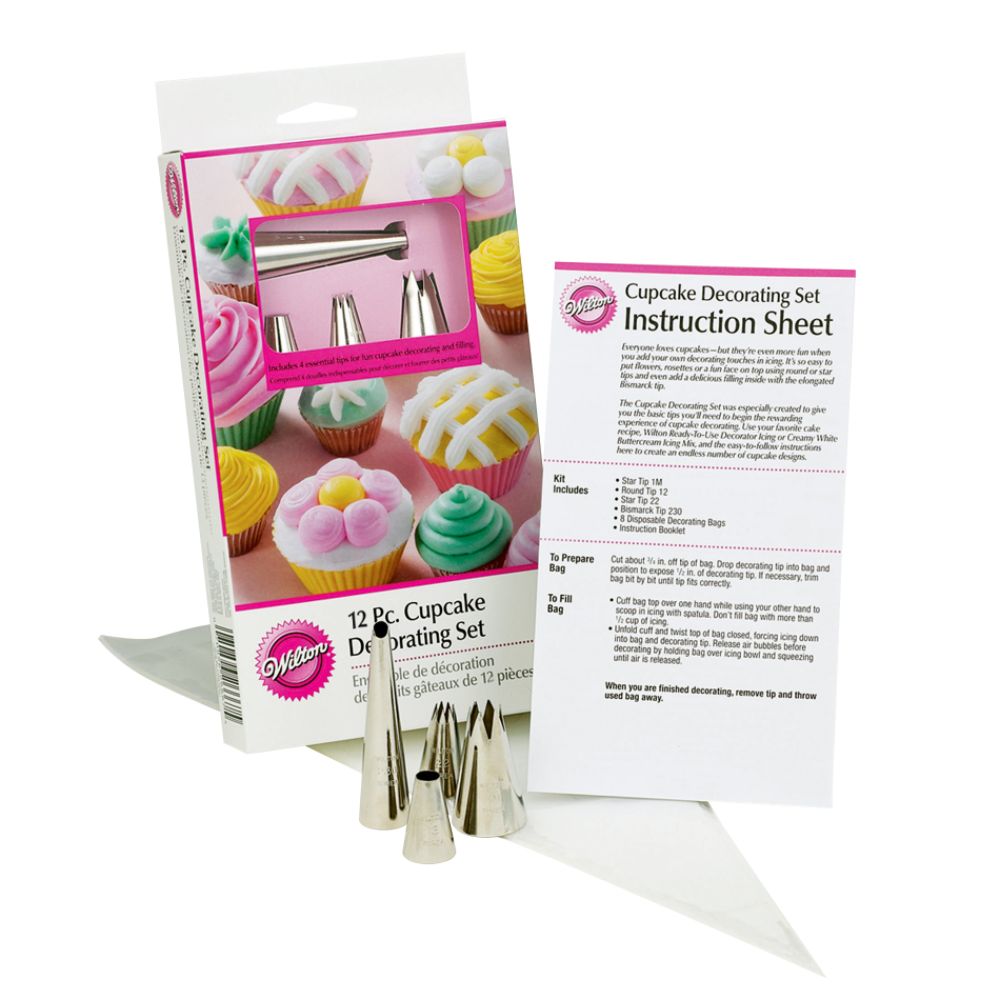 Create all kinds of fun designs perfect for celebrations or everyday treats! Includes star tip 1M (rosettes, stars, drop flowers), star tip 22 (zigzags, pull-out stars), round tip 12 (outlines, dots, messages), Bismarck tip 230 for exciting filled cupcakes, 8 disposable bags, and instruction booklet.
Cake Decorating Tube Set, 24 piece, includes 24 assorted tubes, with plastic storage box and lid. ( Update International - CDTS-24 )
Pastry Bag Holder, 7-5/8" diameter x 9" H, plastic ( World Cuisine - 47110-23 )